2021 Hyundai Tucson in Stratford, ON

The 2021 Hyundai Tucson in Stratford, Ontario
At Stratford Hyundai, we're excited as our customers are about the launch of the 2021 Hyundai Tucson. The Hyundai Tuscon of 2021 will probably make its debut by the end of 2020 or early in 2021, and it will have a much bolder physique and a load of great features compared to its predecessor models. For more information about the 2021 Hyundai Tucson in Stratford, Ontario, interested parties can visit our vehicle dealership website. We are the premier and preferred Hyundai dealership in Stratford, Ontario. We are also glad to serve our clients in Kitchener, Waterloo, Woodstock, London, and other regions of Ontario, offering the latest from Hyundai's lineup of new vehicles. Let's take a moment to review the latest offering for the 2021 Hyundai Tucson.
2021 Hyundai Tuscon vs. 2020 Hyundai Tuscon
When we finally launch the 2021 Hyundai Tucson for sale in London, Ontario, we expect mixed reactions from our Hyundai lovers. The newest model offers a more confident look compared to the latest 2020 Hyundai Tuscon. The developers tell us to expect the 2021 Hyundai model to have a taller cabin and a longer wheelbase. Due to this extra space, drivers and passengers will be more comfortable, and there will be enough space to load your luggage for any getaway.
The exterior of the 2021 Hyundai model will be longer, and it will have a sloped roofline and a sideline. This model also boasts of the square wheel arches that have a slightly sportier and aggressive look. The 2020 Hyundai Tuscon has a narrower grille, but the 2021 model has a redesigned look with a wider grille. We also expect triangle-shaped headlights, and the rear will have tiger-like taillights. Visit our new vehicle inventory page for details on what to expect on the 2021 Hyundai Tucson trims and prices and be sure to contact us to learn about the latest offers from Hyundai.
Related Articles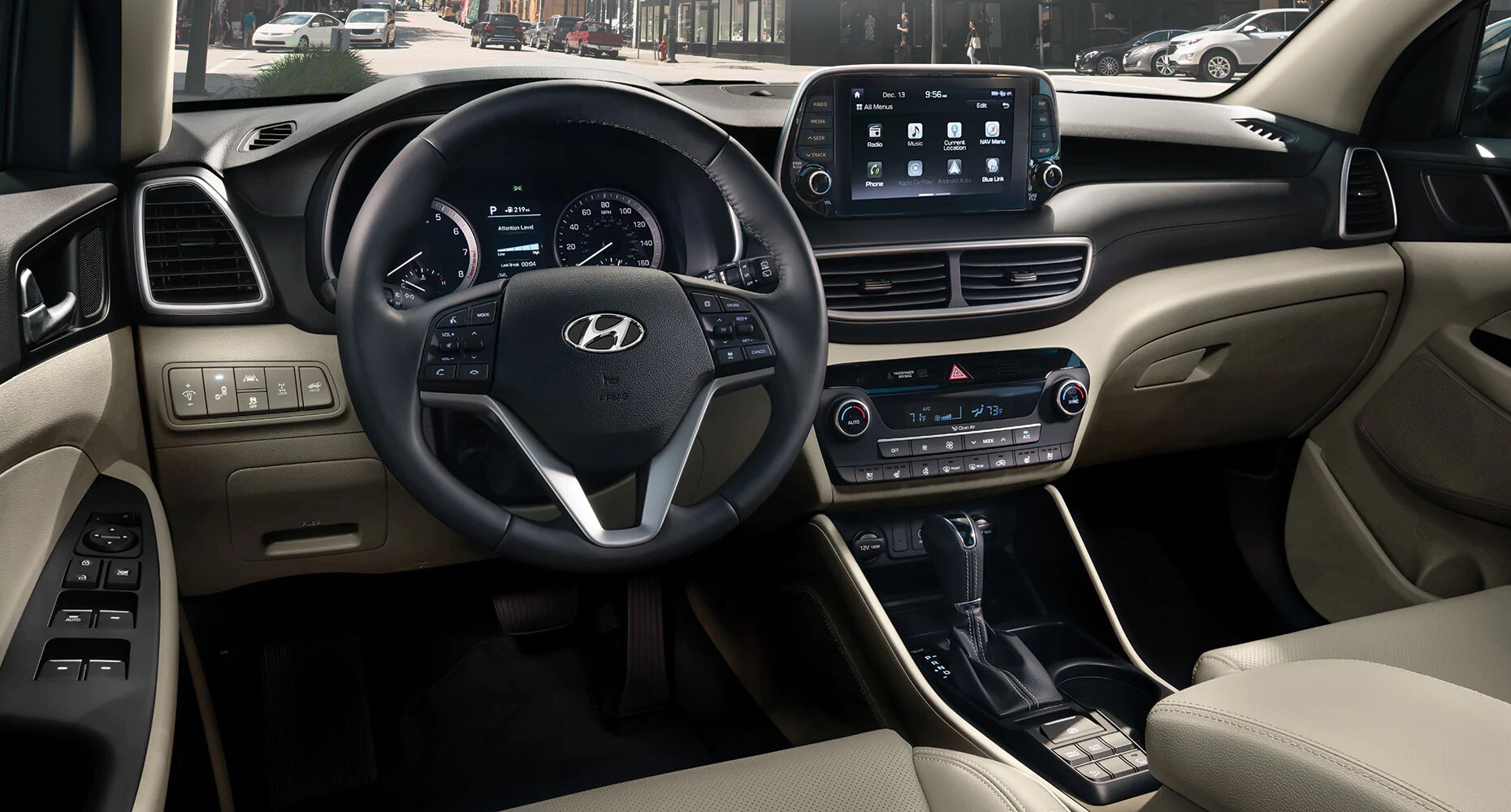 2021 Hyundai Tucson Safety, Performance and Technology Features
The previous Hyundai models have always had great safety features approved by the IIHS. Therefore, as we would expect, there will be an upgrade to the 2021 Hyundai Tuscon's safety features. There might be enhanced driver warning features; all-wheel drive features will provide extra confidence when driving on mud, sand, or snow. There will be quite an upgrade on the engine performance since this model will include a 2.4L four-cylinder engine with 181hp and a torque of 175 lb-ft. This engine power will comfortably tow up to 1,000lbs.
New tech features will be available on the 2021 model, and they might include the ability to connect your vehicle to smart homes or smartwatches. Features such as the Android Auto and the Apple CarPlay will remain intact. Interested buyers can view our new Hyundai inventory to find out more about the performance, safety, and tech features on other Hyundai Tuscon models.
Ready to Pre-Order the 2021 Hyundai Tucson?
If you're one of our many valued customers who are ready to pre-order the 2021 Hyundai Tucson, be sure to contact us to reserve your order from now. With a limited supply being offered to dealers across the country, we want to ensure you have your order secure. If you're looking for convenient and hassle-free car loans, be sure to complete our online finance application, and our financing specialists will get in touch with you today.
2021 Hyundai Tucson - Online Inventory